WHY PPE IS THE LEADING ENFORCEMENT COMPANY
IN THE PARKING INDUSTRY
Licensed and Insured
PPE carries extensive insurance which protects our customers from any liability ensued by parking enforcement on their property. Policies include $1M Liability, $1M Commercial Auto, $300K Garage Keepers, $1M Umbrella, $50K Crime, and $500K Workers Compensation.
Strong Understanding of Laws
PPE stays abreast of all city and state laws and parking enforcement ordinances, and strives to maintain strong working relationships with local government agencies.
Hiring Policies & Training
PPE employs only professional, ethical, drug-free employees to enforce your parking regulations. All employees undergo criminal background checks and drug tests. All employees receive thorough training in customer relations, tactical communication, and understand the importance of maintaining a professional demeanor at all times.
Professional Representation
All agents are required to wear a clean uniform of a navy PPE polo shirt and Khaki pants, with their employee ID displayed. We understand that we are an extension of your business, and your company will be professionally represented at all times.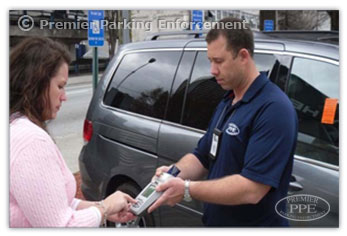 Wireless Payment Terminals
Agents accept credit or debit card payments on site with wireless credit card terminals to expedite the collection process.
24 Hour Dispatch Service
Our professional dispatch center is available 24 hours a day, 7 days a week. The parking violator calls our toll-free number 866-647-1677, and are guaranteed an immediate response. The time of all calls are documented to ensure boots are released in a timely manner, and audio recordings are maintained for all calls.
Surveillance Equipment
Agents are equipped with a body worn police camera. All interactions are both video & audio recorded to protect all parties involved. Recordings are downloaded weekly and reviewed by management as needed. Complaints and false allegations can be resolved with video documentation of the actual events as they took place.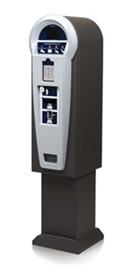 Electronic Pay Stations
Many of our clients benefit from the use of automated electronic parking meters on their property. PPE partners with the leaders in the parking meter industry to provide our customers with access to the latest technology.
Benefits
User friendly with a large full-color screen
Ability to accept coins, bills, and credit cards
Pay-and-Display or Pay-by-Space
Incremental rate options
Eliminate underpayments
Real-time payment processing & reporting
Complete audit control